Environmentally Responsible Corrugate Is How We Roll.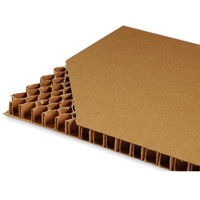 When I tell people that we make furniture out of cardboard, the typical response is a skeptical eyebrow. Sure, it sounds crazy at first, but with an awesome material like Falconboard, we can take cardboard to a whole new level. This is the material we use for all our "Flatgoodies."
A product of Hexacomb, Falconboard calls itself "the environmentally responsible graphic display board." For efficiency's sake, we'll call it cardboard.
Why is Falconboard so awesome?
It is extremely rigid and stable.
It's surface is clean and smooth–great for printing.
It can be cut or folded into a variety of shapes and maintain strength.
Also, it's sustainable. This deserves a list all its own:
It's 100% recyclable.
It's made from renewable forest resources (even certified by the Sustainable Forestry Initiative! Woot!).
It capitalizes on smart engineering to make sturdy material with less tree material than solid wood.
All components are chemically and biologically safe, even if burned.
Hexacomb is a patron of the Sustainable Green Printing Partnership (SGP), which promotes social responsibility in the graphic communications industry.
Through Falconboard, Hexacomb is making strong moves in the green direction. Go Hexacomb!
Now you know a little more about Flatgoods and why they are so strong (not to mention sustainable)! It's all in the honeycomb.